Sanctify them by Your truth. Your word is truth.
- John 17:17
Our men's small group ministry exists to engage men with the Word of God, to develop mature disciples of Christ who will grow deeper in their knowledge, love, and desire for God and His will!
 
Start Date
Our men's small group Bible study will begin on Monday, February 22, 2021 at 7pm.
 
Precept Ministries Bible Study
Precept studies use an inductive approach to study God's Word, teaching men how to observe, interpret, and apply the Word of God to their lives. In a Precept study, you will study a book or topic of the Bible. You will receive a study guide that contains chapters, verses, charts, maps, and five days of homework each week.
Each Monday, we will meet together as a group over Zoom to discuss what we have studied, led by a group leader. It is through this process that our minds will be renewed, and our hearts engaged, to properly live out the truths we learn through our study. 
 
Purpose
To unite men in Bible study, prayer, fellowship, and accountability
To teach men how to study the Word of God
To teach men how to know and discern God's will
To encourage men to come along side one another in life and service.
To equip men to become godly servant leaders in their home, church, and community
 
Required Materials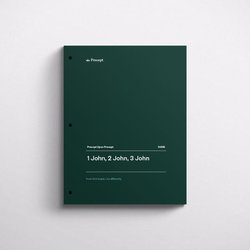 1 John and 2 & 3 John
Precept Workbook (NAS)
$15.75
Purchase

Register to Attend
If you would like to be a part of our weekly small group Bible study, please sign up using the form below.